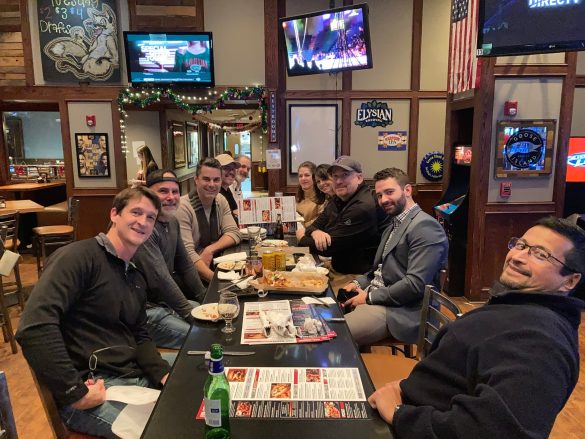 F3TCH sets up shop at NC beach to help hotels connect with mobile first guests
Jose Quiros didn't know exactly what to expect when he packed up his mini cooper with two dogs (one 80 plus pounds), a cat, and a fish and started heading from Colorado Springs to Wilmington, North Carolina.
He'd never been to the beach city before, but he was looking for a spot with a milder winter and somewhere closer to potential East Coast clients for his early-stage startup, F3TCH.
Quiros told Hypepotamus he sent an initial email to NEW (Network for Entrepreneurs in Wilmington) and Jim Roberts as he started on his cross-country road trip.
He had a response from Roberts before hitting the first rest stop.
As Quiros exchanged messages from stop to stop with Roberts (who he affectionately referred to as the "local start-up whisperer"), he started to get a glimpse of the unique tech community building in Wilmington.
And he said that the community hasn't disappointed. "It's been not just friendly, but helpful, useful, and not competitive. And that's unusual in startups."
It seems almost serendipitous that F3TCH, a hospitality tech startup, would pick a city so willing to welcome, help, and support founders.
Quiros built his career in the hotel space, particularly building out guest room technology experiences.
He knew firsthand that the hospitality industry was not keeping up with technological and generational changes.
"You can bank from your phone but you can't order room service from it? That doesn't make sense," added Quiros.
F3TCH's technology takes away the antiquated and dirty guest room telephone that we are all used to seeing on hotel nightstands and replaces it with a dynamic app.
It's not just about cutting the cord of the traditional hotel phone, said Quiros. It is about rethinking communication, "bringing hospitality back into hotels," and meeting guests where they are.
And that means being right on their cell phones.
Hotels and resorts can communicate with guests via text, voice, and photos. That can help ease the check-in/check-out process, remind guests about services, give important property updates, and provide guests with curated, personalized experiences.
"Whether you are a Courtyard, a full-service Marriott, or the Waldorf Astoria, you absolutely need to have the ability to talk to guests and make them feel welcome. Part of the problem with technology and part of the problem with hotels today is they've lost that hospitality."
Quiros walked through the scenario of a business traveler who arrives late being able to have room service waiting upon arrival all through communication in the app.
That mobile-focused communication option is particularly important in a post-COVID world, where business travelers and tourists alike want to limit contact with in-room phones.
"We're the last mile to the guests. And no other brand can do that today," he said.
Heading into 2022, F3TCH will be focused on a limited launch in hotels on the East Coast and scaling in a responsible way with potential outside investments. Quiros told Hypepotamus that he knows there are pros and cons to being a tech startup that can be easily and efficiently implemented across hotel rooms.
But the F3TCH team is ready to help hotels and resorts meet the needs of tech-savvy business travelers and tourists.
"The experience at hotels is changing. Our technology enhances the experience and just makes it simple. And the simple things are very, very crucial…especially to a service industry," he add
Article was originally written by Maija Ehlinger 
Sorry, the comment form is closed at this time.